A great way to get around Maple Shade, Moorestown, and Cherry Hill is in a dependable vehicle. Part of that means having the right set of tires. That's where our tire center comes in.
At Elite Acura, we supply the right tires for your driving needs. Learn all about our tire center below, and don't hesitate to contact us if you have any questions.
Importance of Tires
Tires are some of the most important parts of your car. That's because the tire is the only part that actually touches the ground. It also makes the car accelerate, stop, and turn. If you're missing just one tire, the car can no longer move. Plus, it's the only car part that has a spare in every single vehicle.
Different cars require different tires, along with different amounts of air pressure. Plus, higher performance tires wear more quickly. This information will help you should you ever need to buy a new set of tires.
Why Buy from a Dealership?
There are many reasons why it's a good idea to buy tires from a reputable dealership. For one, they can easily pick the tires that are meant for your car.
Extensive evaluations are performed to determine which tires are best suited for your vehicle. They're chosen based on several factors, including:
Superior handling for wet or dry traction
Stability
Tread life
Acoustics
Rolling resistance
Load and speed ratings.
There are several tire brands out there, such as Continental, Goodyear, and Michelin. No matter what, the approved and recommended brand will be chosen to deliver a great driving experience.
Furthermore, a dealership has factory-trained technicians who can properly install the tires. They're one of the best resources on all things tires. So, feel free to reach out to them with any questions regarding your tires. They'll not only supply a great set, but they'll install them quickly and correctly. This way, you can get back on the road in a well-running machine in no time.
Tire Service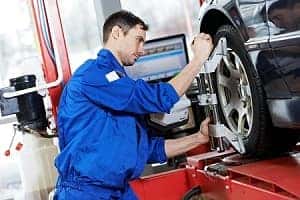 Our dealership can get you the tires you need. However, we can also repair your current ones.
We'll check for tire wear, like cracks in the sidewall, or objects embedded in the tire, like a nail or screw. We'll also check for proper air pressure, inflating the tire if need be.
Another issue we'll take care of is uneven wear. This will happen naturally over time. If at any point your car pulls to one side when driving, then it needs to be aligned. Take the car to our service center, where we'll perform a routine tire rotation.
We'll also check tire tread, which can be done by a simple penny test. Place a penny with Lincoln's head downward between the grooves of the tire. If you can see the top of his head, then you'll need new tires.
Contact Our Tire Center Today
If you need more information, or want to schedule service, then contact our Elite Acura Tire Center. We'll perform the necessary work to get you back on the streets of Maple Shade, Moorestown, and Cherry Hill as soon as possible.
Don't wait. Contact our tire center today!