The Importance of Tire Pressure
Properly inflating your tires is a cheap and simple way to make sure your vehicle consistently runs at top performance. Most service centers and gas stations provide an air pump you can use to check your tire pressure and fill them to the proper PSI level.
At our Elite Acura Tire Center, we're committed to helping drivers throughout Maple Shade, Moorestown, and Cherry Hill, NJ, by providing helpful tips to keep their vehicles running in the best condition for years to come. Continue reading to learn the importance of regularly checking your tire pressure.
Under-inflation vs Over-inflation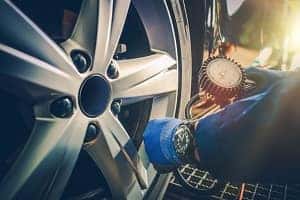 Fluctuation in outside temperature can have an effect on your vehicle's tire pressure changing, so it's important to always to check each tire's PSI between seasons or when your local area experiences a drastic temperature change, like a blizzard or heatwave. You should also check your tire pressure before and after taking a long road trip.
Tires with too much or too little pressure can affect your vehicle's performance in a number of ways:
Under-inflation. An under-inflated tire makes more contact with the road surface causing the tire shoulder to prematurely wear down. Under-inflated tires also force the engine to work harder resulting in reduced fuel-economy.
Over-inflation. An over-inflated tire is stiffer than what the manufacturer recommends, which often causes a bumpy, uneven ride. Over-inflated tires are also more susceptible to being damaged by things like pot holes and uneven surfaces, since a smaller surface area absorbs the impact.
What Are the Benefits of Good Tire Pressure?
While it might seem like a minor inconvenience, regularly checking to make sure your tires are inflated to the correct PSI level can help your vehicle in a few important ways:
Safer Handling. Properly inflated tires do a better job at gripping the road surface, which makes maneuvering through sharp bends and up steep hills easier. It also ensures that you have the ability to stop quickly in an emergency situation.
Fuel-Economy.  Under-inflated tires require your engine to work harder, which means you burn gas quicker. Every drop in PSI lowers your average MPG by 0.2%. That might not seem like a lot, but it can quickly add up and cause premature wear on your engine components.
Rim Protection. Bent or cracked tire rims are expensive and can result in greater damage to your vehicle's braking system.
How Do I Check My Tire Pressure?
To get the best measurement, wait until a cool time of day. You should also avoid checking right after a long trip since recently used tires often will have a higher PSI due to friction. If you don't already know your tire's PSI level, you can consult your owner's manual for proper guidance. Follow these simple steps to learn how to check your tire pressure:
Uncap the air valve on your tire
Insert a tire pressure gauge into the air valve to see its current level
Using an air pump, fill your tire to the recommended PSI level
Replace cap onto the tire's air valve
Repeat for all other tires
If your tires are over-inflated, simply tilt the valve stem to release air from the tire until the proper PSI level has been reached.
Schedule Tire Service Today!
At Elite Acura, our team of highly skilled technicians are here to help drivers throughout Maple Shade, Moorestown, and Cherry Hill, NJ, by providing honest and thorough care over the lifetime of your vehicle. Simply stop into our state-of-the-art service center or go online and schedule an appointment today!