Why Should You Change Your Transmission Fluid?

You should change your transmission fluid because old fluid may be dirty and therefore less effective at performing its job of lubrication and temperature regulation. To avoid unnecessary transmission damage or decreased performance, be sure to change your transmission fluid regularly.
At Elite Acura, we're no stranger to questions about why you should change your transmission fluid. In fact, our customers from Maple Shade, Moorestown, Cherry Hill, and other local areas, ask us about it frequently while scheduling their routine service appointments.
So, we've put together this collection of FAQs that we hope will provide some of the answers you're looking for. Want to know more? Give us a call!
How Often Should I Change Transmission Fluid?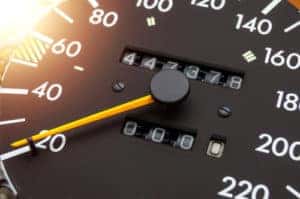 It's generally recommended that you should change your transmission fluid every 45,000 miles, which is roughly every three years for the average driver. However, we suggest checking your vehicle's owner's manual for your exact needs, or contacting your local dealership for their professional recommendation.
It's also good practice to have your transmission fluid checked as part of a multi-point inspection with every oil change. Oil changes generally happen every 7,500 to 10,000 miles, so they give you a great opportunity to check up on everything.
Of course, if you're overdue for a change, you can also keep a lookout for the following signs from your vehicle:
Grinding noises
Shifting problems
Gear slipping
Vehicle surging
Movement delays
Keep in mind that these symptoms indicate that you're overdue for service, so drive carefully to your nearest Acura service center as soon as possible to have your vehicle inspected by a certified technician.
What Does Transmission Fluid Do?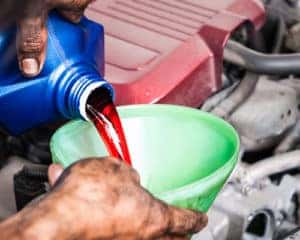 While you drive, the many parts in your transmission move past each other very quickly, especially if you have an automatic transmission that sometimes changes gears multiple times every minute.
Transmission fluid provides the lubrication necessary to prevent these rapidly moving parts from causing excessive friction. It also helps to regulate temperature, which can stop your transmission from overheating.
Why Change Transmission Fluid?
Fluid moves around your transmission during vehicle operation, which may cause it to collect particles and other debris. This can slow down your transmission fluid and make it less effective at providing lubrication or regulating temperature.
Changing or flushing your transmission fluid regularly can help to keep it fresh and working at its best.
Should I Change or Flush My Transmission Fluid?
There are two different ways to keep your transmission fluid clean: changing and flushing. While both processes replace the old transmission fluid with the new, they do so to slightly different degrees.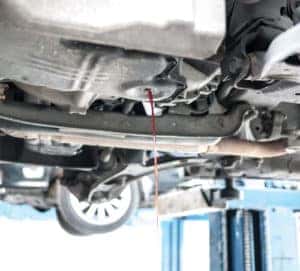 Transmission Fluid Change: During a change, you drain the transmission fluid, replace the drain plug, and refill. This tends to replace 20-40% of the old fluid, but is a much quicker service.
Transmission Flush: This process runs fresh oil or a cleaning solution through your transmission, which allows you to replace 100% of the old fluid. It can also remove excessive dirt, debris, and sludge from your transmission.
The services you're due for will depend on your transmission condition and mileage. A certified technician can provide the best recommendation for what you need.
Where Can I Change My Transmission Fluid?
If you need to change your transmission fluid, contact the team at Elite Acura. Our team of factory-trained and -certified technicians will take a look under the hood and provide the high-quality automotive service you need to get back on the road with confidence.
Drivers near Moorestown, Cherry Hill, and Maple Shade can contact us to schedule transmission service today!