At Elite Acura, we strive to equip all drivers in the communities of Maple Shade, Moorestown, and Cherry Hill with top-notch automotive care. So, when you're reading to start searching for an "oil change near me", remember that Elite Acura's Service Center is here for all your oil change needs.
Luckily, we're here with educational articles that'll help you learn more about the importance of oil changes. Throughout these pages, you'll gather more information on the risks of not getting regular service, when to have your oil changed, and where to go for an oil change near me.
5 Signs You Need an Oil Change
How Long Does an Oil Change Take?
How Often Should You Change Your Oil?
Synthetic vs. Conventional Oil
What Type of Oil Does Your Car Need?
Why Is My Car Leaking Oil?
The Importance of Oil Changes
Your automobile is made up of an intricate collection of various parts. To keep those items performing at their best and prevent things from overheating, it's essential to keep the engine lubricated.
That's where oil comes in: without seeking routine oil changes, dirt and particles in old oil can corrode and damage your motor, which ultimately affects the overall health of your vehicle.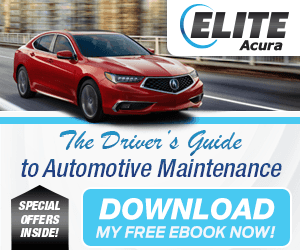 Risks of Avoiding an Oil Change
Not only does an oil change extend the life of your car's engine, but it also safeguards against excess heat under the hood. Without fresh oil, the friction between the various parts of your automobile's motor can lead to overheating, which eventually causes extensive damage.
Plus, worn-down oil turns into sludge that builds up on the insides of the engine and prevents your car from functioning properly—or even operating at all.
Generally, most automobiles should receive periodic oil changes after approximately 5,000 miles have been clocked on the odometer.
Of course, that estimation depends on your driving habits and conditions, so you may need search for an oil change near me before or after 5,000 miles. If you have questions about this, be sure to check your owner's manual, or contact your local service center for more information.
Finding an Oil Change near Me
When you're looking for your next oil change near me, head on over to the industry-leading maintenance facility at Elite Acura, where we're proud to serve drivers of Maple Shade, Moorestown, and Cherry Hill.
At our fully stocked service center, we'll go above and beyond to provide you with a quality oil change by using cutting-edge tools and genuine Acura oil. Simply give us a call, stop by for a visit, or schedule your oil change near me online today!