At Elite Acura, we strive to equip all drivers in the communities of Maple Shade, Moorestown, and Cherry Hill with top-notch automotive care. So, when you're ready to start searching for an "oil change near me," remember that our Service Center is here for all your oil change needs.
Luckily, we're here with educational articles that'll help you learn more about the importance of oil changes. Throughout these pages, you'll gather more information about the importance of getting regular automotive service, when to have your oil changed, and where to go for an oil change near me.
Common Oil Change Questions
5 Signs you Need an Oil Change
Think you need an oil change? Check out these signs that you need an oil change:
Your oil is low
Your oil light is on
You have dirty oil
Different sounds, smells, or performance issues
You can't remember your last oil change
Learn More about these signs here.
How Often Should You Change Your Oil
Most automotive professionals recommend oil changes every 5,000 to 7,500 miles, depending on the type of oil use in your engine.
Click here to learn more about regular oil changes!
Symptoms of Low Engine Oil
Maintaining proper oil levels is important to keep your car on the road for years to come. The most common symptoms of low engine oil are:
What Type of Oil Does Your Car Need?
While it might seem like there's an endless variety of motor oil out there to choose for your next oil change, in actuality, they all can be broken down into four main types: conventional, full-synthetic, synthetic blend, and high-mileage.
Learn more about what type of oil is best for you car.
Synthetic vs Conventional Oil
The easiest way to find out if your car requires synthetic or conventional oil is to consult your owner's manual or ask on of our experienced technicians.
Learn more about synthetic and conventional oil.
How Long Does an Oil Change Take?
From beginning to end, an oil change usually takes about 20 minutes to perform
Learn more about what goes on during this time here.
Why is My Car Leaking Oil?
Are you wondering about the most common causes of an oil leak? They include:
Leaky valve gasket
Loose or worn oil fitler
Oil plug and filler cap issues
Stop oil leaks by learning more here.
The Importance of Oil Changes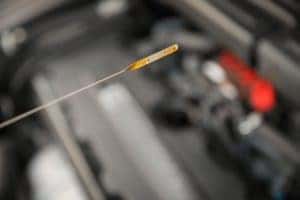 An oil change is one of the most common forms of regular automotive maintenance for a good reason. Your automobile is made up of an intricate collection of various parts, with the engine service as the most important element. To keep all of a car's moving parts in working order and to prevent your vehicle from overheating, it's essential to keep the engine lubricated.
That's where oil comes in: without routine oil changes, dirt and particles in old oil can corrode and damage your motor, which ultimately affects the overall health of your vehicle.
Think of the phrase "well-oiled machine." Oil works to ensure that each and every part of your car is working in harmony with one another. For this reason, staying up to date on regular oil changes is one of the most important parts of vehicle maintenance. Without clean oil, you won't be getting the most out of your car.
Not only does scheduling routine oil changes keep your car in tip-top shape, it also saves you time in the long run. Most service technicians can complete a routine oil change in an hour or so. By getting routine oil changes, you're trading a few minutes for countless extra hours on the open road.
Benefits of Scheduling an Oil Change
Since fresh oil is essential to proper vehicle maintenance, it's not surprising that avoiding an oil change occasionally leads to problems down the road.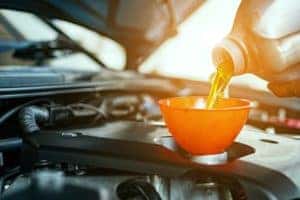 Not only does an oil change extend the life of your car's engine, but it also safeguards against excess heat under the hood. Fresh oil reduces friction between the various parts of your automobile's motor. Without it your engine may overheat, making it beneficial to keep your engine oiled and running smoothly. Similarly, keeping fresh oil in your vehicle cuts down on noisy engines. A well-oiled engine not only lasts longer, but it's also healthier and quieter!
Scheduling routine oil checks also reduce the potential for sludge to build up in your engine. Worn-down oil often mixes with water, coolant, and dirt to produce a thick slurry that can reduce engine efficiency. Replacing old oil is the easiest way to prevent sludge build-up, ensuring that your engine is clean and firing on all cylinders. By getting frequent oil changes, you won't have to worry about flushing engine sludge. Instead, you'll enjoy peaceful rides.
How Often Should I Get My Oil Changed?
Generally, most automobiles should receive periodic oil changes after approximately 5,000-7,500 miles have been clocked on the odometer.
Of course, that estimation depends on your driving habits, road conditions, and the type of oil in your vehicle, so you may need to search for an "oil change near me" before or after 5,000 miles. Although 5,000-7,500 miles is an effective baseline for most vehicles, cars that take synthetic motor oils can go even longer without needing an oil change. If you have questions about what type of oil to use or how many miles you should go between oil changes, be sure to check your owner's manual or contact your local service center for more information.
How to Check Your Oil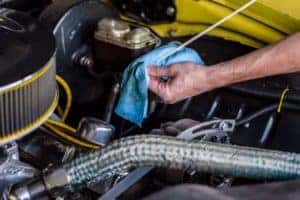 One of the best ways to determine if you need to start looking for an "oil change near me" is also the simplest. Every car has a dipstick which can be used to inspect your oil level and its overall condition. If you're unfamiliar with the process of checking your oil, have no fear! Just follow these easy steps listed below:
Pop your vehicle's hood
Locate the dipstick, which usually looks like a vertical ring resting in your engine
Remove the dipstick and wipe it clean with a rag
Re-insert the dipstick, wait a few seconds, and pull it out
Inspect the dipstick to see your current oil level
Once completed, simply replace the dipstick and close your vehicle's hood. The dipstick has a number of lines etched into it. Each line indicates an oil level. The higher up the oil reaches, the better your oil level is. When inspecting your dipstick, you can also see the color and condition of your oil. Fresh oil has a light brown or amber hue, while older oil is dark and gritty.
By manually checking your oil, you can have a better idea of what's going on under your hood. In addition to helping you determine the health of your engine oil, knowing how to check your oil is a useful piece of knowledge for every driver that can help you no matter what vehicle you're driving.
Finding an Oil Change near Me
Oil changes are vital to your car's lasting health and performance. Being diligent about oil changes is an effective means of keeping your car on the road longer. So when you're looking for your next oil change, head on over to the industry-leading maintenance facility at Elite Acura. Our expert service staff is proud to serve drivers from Maple Shade, Moorestown, and Cherry Hill with all their automotive needs.
At our fully stocked service center, we'll go above and beyond to provide you with a quality oil change by using cutting-edge tools and genuine Acura oil.
Simply give us a call, stop by for a visit, or schedule your oil change near me online today!