Look Your Best with Formal Expressions

Whether you're preparing for your wedding, senior prom, or a special black-tie gala, you'll want to look your absolute best.
How you dress is an important step, and Formal Expressions is here to help! From tuxedo and accessory rentals to personalized appointments and in-home fittings, you'll be turning heads and looking stylish in no time.
Men across New Jersey have been choosing Formal Expressions for over 30 years. To find out why, continue reading this local spotlight.
Expansive Selection of Tuxedos and Accessories
If you're looking for a vast selection of styles, fabrics, and color options, you've come to the right place!
Formal Expressions inventory is expansive, carrying tuxedos from some of the world's top designers, including Ike Behar, Perry Ellis, Joseph Abboud, and Calvin Klein. Furthermore, it's all available right on their premises. Not only will you get a hands-on look of everything they offer, you will be able to try it on in your correct size.
In need of shoes and accessories to compliment your tuxedo? Formal Expressions has you covered there, too! Choose from numerous vest lines in colors sure to match any bridesmaid's gown or prom dress. Also, browse through their wide collection of footwear, dress shirts, tie separates, and more!
Tailored Fit for Your Whole Party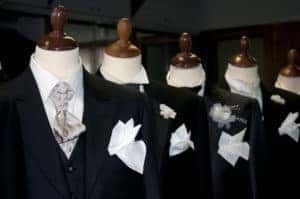 Sure, it's the groom's special day, but why should he be the only one in a well-tailored tuxedo?
With in-home fittings from Formal Expressions, he doesn't have to be! After styles have been selected, their fitting specialist will come right to your home and fit your entire party in their wedding attire.
Everything will be dropped off at least two days before the big day, so you can spend more time enjoying this special moment, and less time running errands. After the wedding, they'll stop by and pick everything up. It's that simple!
In addition to in-home fittings, Formal Expressions also offers on-site fittings for proms, galas, and other black-tie events.
Dress to Impress
If you're looking to rent a tuxedo for your next special occasion, Formal Expressions is the place to shop! Check out their Facebook page for the latest updates and plenty of fashionable photos.