Local Spotlight: Esti's Besty's Vegetarian Restaurant

If you're looking for a vegetarian spot in Cherry Hill, NJ, look no further than Esti's Besty's Vegetarian Restaurant.
For this local spotlight, we'll break down why this establishment is popular among vegetarians and meat eaters alike. Read all about it below, then stop by next time you get hungry.
About Esti's Besty's
Esti's Besty's is a family-owned and -operated restaurant that serves a distinct combination of American, Mediterranean, and Italian cuisine. Plus, they're the only Kosher vegetarian pizza store in all of Southern New Jersey, being certified as Cholov and Pas Yisroel by STAR-K vaad hakashrut.
All their menu items are made fresh to order daily, to ensure you get a high-quality meal each time you visit. Plus, everything is made with love and pride, which is evident from the very first bite.
What to Eat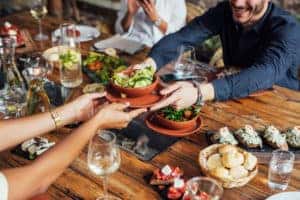 While their menu primarily offers vegetarian and vegan options, everyone can appreciate the delicious options offered at this restaurant.
For a Quick Bite
If you're coming for a quick lunch, there are lots of great salads, soups, and sandwiches to select from.
We especially enjoy the Niçoise Salad, with garden fresh lettuce, cherry tomatoes, black olives, red onion, hardboiled egg, sliced potato, and a scoop of tuna with a garlic dressing.
For the sandwiches, they have options like Egg Salad, Tilapia, and a Falafel Burger. You could also get a gooey Grilled Cheese Sandwich with a side of one of three fresh soups offered that day.
For Something Heartier
You may instead wish to stay for a longer meal. In that case, we recommend getting one of their pizza pies, Middle Eastern favorites, or other entrees.
For pizza, we recommend Esti's Za'atar Pizza. On a thin crust, you get za'atar sauce with olive oil, crumbled feta cheese, and your choice of garden-fresh tomato or onion.
As far as the Middle Eastern favorites go, we suggest getting the Combination Platter, so that you get a little bit of everything. It comes with hummus, babaganoush, Spanish eggplant, Israeli salad, and pita, and is sure to fill you right up.
Indulge in Some Tasty Vegetarian Cuisine
Whether you're a vegetarian/vegan, or simply want to eat a little less meat, this Cherry Hill, NJ, spot is a great place to visit.
Check out Esti's Besty's Facebook page for more information, then stop by for a yummy meal today!