Where to Get 4th of July Hot Dogs in Maple Shade NJ

 When you think of the 4th of July, you no doubt think of fireworks, the beach, and the American flag. When it comes to cuisine, there's nothing more American than the hot dog.
It can be enjoyed anywhere and can be eaten plain or with all the fixings. So, where should you get one on this popular summer holiday? If you're not sure, check out our guide to find out where to get 4th of July hot dogs in Maple Shade, NJ…
Gourmet Domestic & International Sausages
Destination Dogs creates gourmet sausages that are inspired by the world's best cuisines. Founders Jimmy Cronk and Sean Hosty love food and travel, and they share their passions with every customer. They love talking about the products they make and the town that each comes from.
Here, you'll find domestic hotdogs, such as the Trenton Thunder from Trenton, NJ. This deep-fried, all-beef hot dog is topped with a pork roll, scrambled eggs, cheese sauce, tomato, and pepper jelly. There are also international dogs, like the Achilles Meal from Greece, which contains lamb sausage topped with tzatziki sauce, tomato, shredded cabbage, and onions.
Learn more on the Destination Dogs Facebook page.
Serving Creative Hot Dogs, Burgers, & Fries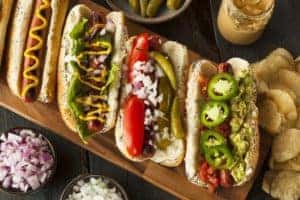 Moon Dog Grill is a quick-serve restaurant that takes a creative approach to the classic hot dogs, burgers, and fries. Their burgers are made from 100% Angus beef, hand-formed and never frozen. The fries have been named the Best Fries in South Jersey by SJ Magazine.
However, you'll really want to try one of their Sabrett all-beef hot dogs with tasty toppings. There's the Texas Johnny, with bacon, cheese sauce, and BBQ sauce. There's also the Rutgers Fat Dog, with baked beans, seasoned fries, an onion ring, and Fritos.
Check out their other crazy combinations on the Moon Dog Grill Facebook page.
Enjoy a Tasty Hot Dog This Summer
After reading all about hot dogs, you'll no doubt want to take a bite out of one this summer. This 4th of July, visit either spot for hot dogs in Maple Shade, NJ.