Best CrossFit Gyms near me in Maple Shade NJ

Whether you're trying to get in shape, lose the belly fat, or increase your strength, regular exercise and physical activities are important towards living a healthy lifestyle. While there are plenty of gyms in the Maple Shade area that you can go to, you may need the extra push and intensity offered with CrossFit. This intense fitness regimen has become increasingly popular because it delivers results and has helped thousands achieve their ideal fitness. While this exercise is wildly popular with several gyms in the area, you'll want to head to the right places to get started.
Here's our picks for the best CrossFit gyms near you in Maple Shade, NJ.
CrossFit DT1
1006 Haddonfield Road, Cherry Hill, NJ Facebook Instagram
CrossFit DT1 in Haddonfield aims to change the lives of its members. It was started by Brad and Meredith Stadler with the hopes of donating generous portions of their revenue to diabetes charities to help families struggling with this disease. As for their members, they go the extra mile by offering a wide variety of classes, ranging from CrossFit, Cardio, and even Power Yoga. They even offer CrossFit for kids to help encourage healthy and active lifestyles. Get involved with CrossFit with a purpose and sign up for CrossFit DT1 today!
CrossFit Hygge
5 Rock Hill Road, Suite # 4, Cherry Hill, NJ Facebook Instagram
The staff at CrossFit Hygge know that every person and body is different, but they find out your strength and limitations so they can design a plan for you. They'll help you improve your stamina and endurance while helping you achieve your fitness goals. They've got full-time coaches on staff to help you, and they constantly learn and develop more exercises and positions to help you continue to challenge yourself. Their goal is to make you feel like you won every time you walk out the door. Challenge yourself and sign up for CrossFit Hygge!
CrossFit Iron in the Fire
1703 Industrial Highway, Unit 6, Cinnaminson, NJ Facebook Instagram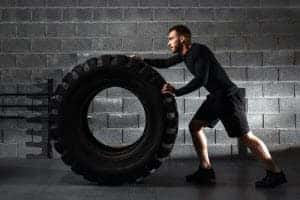 Since 2013, CrossFit Iron in the Fire has been pushing their members towards their ultimate goals with their physique, strength, and endurance. They offer a schedule that can accommodate any lifestyle, with classes first thing in the morning, or at night for those who prefer to push themselves after a day of work. This CrossFit gym offers a free three-day trial for their potential clients, so you can get a sense of what they're all about before deciding to sign up full time!
CrossFit Turbocharged
1970 Old Cuthbert Road, Suite 231, Cherry Hill, NJ Facebook Instagram
If you're looking to push yourself to your limits and beyond, you may want to swing by CrossFit Turbocharged in Cherry Hill. They've got an extensive team of trainers and coaches who will provide a hands-on fitness experience to help you learn the techniques, the movements, and the flows. They work closely with you to ensure that you're getting all exercises right so you can continue to push yourself and achieve the results you want. Sign up for your 21-day free trial at CrossFit Turbocharged today!
Are you ready to get started on working on your physique and strength? Sign up for any of these CrossFit gyms today to work towards achieving your goals!