Best Breweries Near Me Maple Shade, NJ

Bars and taverns have been around for centuries. However, it's breweries that have recently become very popular in New Jersey and the United States as a whole.
That's because the American palette has shifted from light lagers to more flavorful brews and more and more people are wanting IPAs, stouts, or session ales. At the following breweries in Maple Shade, NJ, you'll find both contemporary styles and all the old classics.
Read through our list below to find your new hangout spot!
For Craft Beer Drinkers & Connoisseurs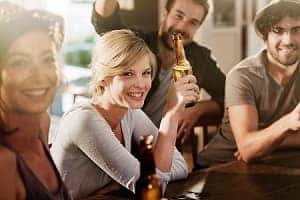 King's Road Brewing Company is a brewery and tasting room that offers a variety of rotating hand-crafted beers. It's owned and operated by five long-time New Jersey residents who've taken their knowledge of and passion for craft beers to the next level.
Here, you'll find several year-round standards such as The King's Gold, Revolutionary Road, and Ample Vengeance. There are also unique seasonal beers and limited releases to enjoy. One example is the Black Musket Stout that's a full-bodied stout with a rich, soft creaminess and a hint of nuttiness.
Visit King's Road Brewing Company on Facebook to see what beers they're offering now!
Modern Brewed Classics
At Double Nickel Brewing Co., they have tours and tastings every day. They refer to their premium craft beer as The Core Series that includes five different beer styles. Each one pays homage to a classic beer style including Vienna lager, Pilsner, IPA, Session IPA, and Belgian Golden Ale. They have perfected these styles with their modern brewing techniques resulting in some seriously great-tasting brew.
Stop by for some beer, along with food from various food trucks. Plus, they have different fun events throughout the year including a board game night, trivia night and open mic night.
For more information, check out Double Nickel Brewing Co. on Facebook.
Sparking Curiosities Through Craft Beer
Forgotten Boardwalk Brewing Co. was founded to "spark curiosities through craft beer and folklore." Owner, Jamie Queli, started out as a beer enthusiast and then became a homebrew hobbyist before opening up her own brewery.
Since she grew up at the Jersey Shore, she wanted to instill her memories and make visiting here a fun experience. That's why you'll find two skee-ball machines, a spin wheel, and funhouse mirrors inside the brewery. All that plus tasty beers like Funnel Cake and What the Butler Saw ensures you'll definitely have a great time at this brewery.
Learn more on the Forgotten Boardwalk Brewing Co. Facebook page.
Visit a Maple Shade Brewery Today
If you're wanting some unique craft beers this weekend, then round up your friends and visit any of these breweries near Maple Shade, NJ today!