Best Bakeries for Holiday Dessert
What's the best part about the holidays? While some may say gift giving or fresh-fallen snow, there's nothing more important than amazing desserts and sugar-packed sweets during the cold months of the year.
If you're a sugar rush fanatic like many, you're likely already thinking about where to find the most mouth-watering treats in your town. Don't you worry—we're here with our guide to the best bakeries for holiday dessert near you. That way, you can stock up on treats for the whole family, or just yourself!
Sunflour Bakeshop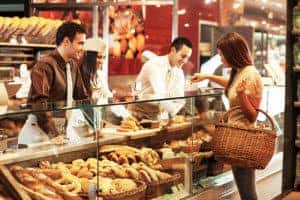 The bakers at Sunflour Bakeshop pride themselves on creating all their specialty desserts 100% from scratch. Whether you need a Danish or a doughnut to start your morning, or a customized cake for your wedding or other special day, they're happy to fulfill any request you have.
They even offer allergy-friendly and Paleo treats, so every type of palate will be satisfied here.
Try this:
They have lots of delicious cake flavors to choose from, including hazelnut Nutella. This chocolate cake is filled with roasted hazelnuts and a Nutella buttercream.
However, for something exceptionally rich and creamy, try their famous salted caramel cheesecake. The cheesecake is topped with a thick caramel sauce, a dash of sea salt, and a crown of homemade whipped cream. It's so tasty that Suburban Family even raved about it.
To see more of their sweet treats, visit Sunflour Bakeshop on Facebook.
Gallo's Bakery
When you're one of those people who eats the icing off your slice of cake first, you've got to stop by Gallo's Bakery. Since 1985, this shop has been serving up cakes, cupcakes, and other desserts to its loyal customers and some of the area's top businesses with their impeccable attention-to-detail.
If you're looking for a specific design, the team here will sit with you one-on-one to come up with a custom plan that suits your aesthetic tastes and your cravings.
These confection creators also offer up a huge selection of different flavors of cakes, cupcakes, and so much—from chocolate mousse Oreo, Reese's, and cinnamon roll to things like maple bacon, sundae, and lots, lots more.
Try this: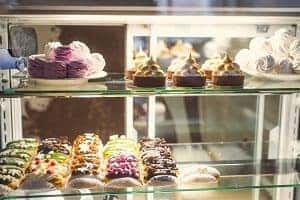 For a walk on the more exotic side of life, grab a slice of their Zucotto cake, which is vanilla cake filled with whipped cream, strawberries, bananas, chocolate chips, almonds, and topped with ganache.
Check out Gallo's Bakery on Facebook for a look at their delicious options!
Randolph's Bakery & Fine Confections
Looking for a cake to serve at your famous holiday bash? Stop by Randolph's Bakery & Fine Confections for a visit. At this bakery, you'll find a collection of creative cakes, all made from scratch with custom designs and flavors. On top of that, they can send a holiday basket chock full of candy, chocolate-covered pretzels, and nuts.
Create your own confection by choosing from their extensive list of cakes, flavors, fillings, and icings. For the Reese's lovers out there, try out a combination, like a chocolate cake with peanut butter filling all slathered in a rich chocolate ganache.
Try this:
Instead of limiting your guests to just one dessert at your holiday party, why not serve a choice of different pastries and doughy delights? Satisfy you and your guests' appetite with delectable desserts, like Randolph's famous apple cake, honey buns, cinnamon buns, strudel, cream puffs, eclairs, and just about anything else your mind can think up.
Take a gander at some of the customer reviews on Randolph's Bakery & Fine Confections Facebook page!
Sweet T's Bakeshop
Whether you're planning your wedding or just need a way to get some sugar into your bloodstream ASAP after a long day of holiday shopping, Sweet T's Bakeshop is the sweet supercenter for all your appetites.
Their long list of cupcakes offers up a gigantic selection that keeps sugar lovers coming back, with unique flavors like blueberry velvet, their award-winning champagne white chocolate salted caramel, French toast, and tons more.
To add fun flair to your holiday dessert, try out their seasonal blood orange velvet cupcake. In addition, this bakery also presents a list of gluten- and allergen-free delights, so no one has to go without dessert on Christmas or hanukkah.
Try This:
For buffet-style events, this shop also creates mini versions of their famous desserts. Try a mini cake bomb for an explosion of icing, cake, and decadent goodness!
Stop by Sweet T's Bakeshop Facebook page for a quick video of their cake decorating techniques!