2019 Acura RDX vs Lexus NX

The luxury compact crossover SUV market is hot, and drivers near Maple Shade, Moorestown, and Cherry Hill may already be familiar with two popular options: the 2019 Acura RDX and 2019 Lexus NX. They both deliver a classy, upscale ride, but which is more your style?
Read our 2019 Acura RDX vs. 2019 Lexus NX comparison to find out. At Elite Acura, we've put all the major features side-by-side, so you can evaluate them on your terms and choose the perfect ride for you!
Acura RDX vs Lexus NX: Performance Specs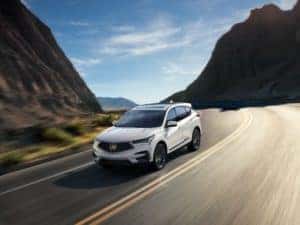 You can drive in all situations with the Acura RDX and Lexus NX, as each offers all-wheel and front-wheel drivetrain configurations. Front-wheel drive puts the weight of the engine over the front wheels, so you'll benefit from high traction that handles wet or dry roads. All-wheel drive gives all the wheels power, and it's great for driving in snow and light off-roading.
Both vehicles are high performers, but the RDX vehicle's 2.0-liter 4-cylinder engine produces up to 272 horsepower, while the NX vehicle's 2.0-liter I4 gets just 235 horsepower. The Acura car will accelerate faster when you're trying to merge onto highways or make steep climbs.
Interior Dimensions
Front-row passengers will find spacious seating in the 2019 RDX and 2019 NX, with more than 42 inches of legroom and 35 inches of headroom in each. In the back seat, however, the RDX has a slight advantage. Its 38 inches of rear legroom exceeds the NX 36.1-inch legroom and will likewise be a bit more comfortable for adult riders.
The Acura RDX has a larger cargo hold as well, with 29.5 cubic feet of cargo volume behind the rear seats, compared to the Lexus NX 17.7 cubic feet. You'll fit more groceries or suitcases in the RDX. With the rear seats folded, the RDX trunk expands to 79.8 cubic feet, while the NX trunk reaches just 54.6 cubic feet.
Comfort and Design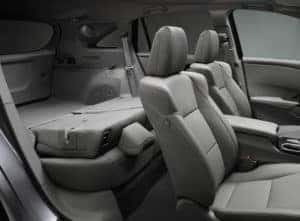 A luxury car comparison wouldn't be complete without looking at comfort and design. Both the Acura RDX and Lexus NX fare well here. They share many of the same convenience features like a leather-wrapped steering wheel and shift knob, boasting exquisite craftsmanship. However, the 2019 RDX has a 12-way power-adjustable driver's seat for custom support on long rides, while the NX only offers a 10-way power-adjustable driver's seat.
A couple of the RDX standard features are optional on the NX, so you'll have to upgrade for the full experience in the Lexus vehicle. They include the power moonroof, which lets in the elements for a more refreshing ride, and heated front seats for added comfort during those New Jersey winters.
Acura RDX vs Lexus NX: And the Winner Is…
A 2019 Acura RDX vs. 2019 Lexus NX comparison is difficult because these two luxury compact crossover SUVs are alike in so many ways. However, shoppers near Maple Shade, Moorestown, and Cherry Hill who value power, space, and a more sophisticated cabin may find a lot to like in the Acura RDX.
Schedule your test drive of the 2019 Acura RDX at Elite Acura to experience all that luxury, and decide for yourself!