Download the Used Car Financing FAQs eBook Today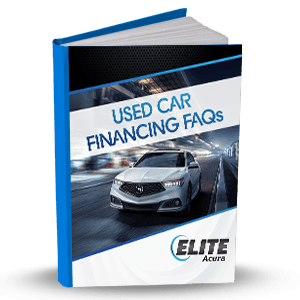 If you're looking to buy a used car, you may have some questions on how to go about paying for it. Luckily, the team at Elite Acura created this informative Used Car Financing FAQs eBook.
We'll answer the five most commonly asked questions that drivers throughout Maple Shape, Moorestown, and Cherry Hill have about pre-owned vehicle financing. They include:
Can I pre-qualify for used car financing?
Can I lease a used car?
Do I need to make a down payment on a pre-owned automobile?
Not only will you have the answers to these inquiries at your fingertips, but you'll also receive a money-saving offer to use at our dealership.
So, if you're planning on buying a pre-owned vehicle, then you'll want to get this useful guide as soon as possible. Don't wait. Download this Used Car Financing FAQs eBook today!