Tips for Driving in the Rain

If you live near Maple Shade, Moorestown, or Cherry Hill, you've no doubt had to drive in the rain. But driving in this type of weather doesn't need to be all wet, especially when you follow the advice of our team at Elite Acura.
Below, we'll give you our top four tips for driving in the rain. Then, feel free to contact us if you have any questions.
1. Have Well-Performing Car Parts.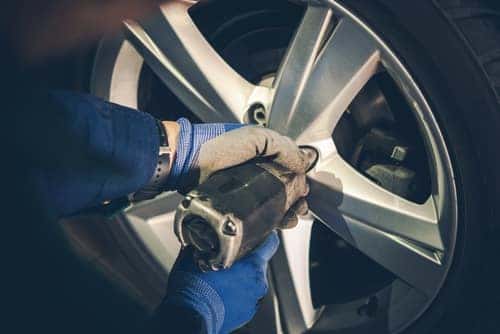 If you're anticipating needing to drive in the rain, you'll want to make sure all your vehicle's parts are up to par.
This includes getting all-weather tires or simply having ones with enough tread. When traveling on wet roads, your tires should have at least 4/32-inch of tread depth. Any less than that, and you could possibly lose control on the road.
Additionally, you want to make sure the windshield wiper blades are in good condition and that you've had your brakes checked. By keeping on top of this routine maintenance, you can ensure safer travels in slippery conditions.
2. Turn on Your Lights.
No matter if it's day or night, you'll want to keep your headlights on when driving in the rain. In fact, many states require you to have the headlights on during a rainstorm or whenever visibility is less than 1000 feet (i.e., a quarter of a mile).
But even if your state doesn't have this law, it's still vital to keep the headlights on. Not only can it help you see more clearly, but it can also keep you more visible to the other cars around you—providing even more protection.
3. Turn Off Cruise Control.
Cruise control is a great feature to use when driving on the highway, as it allows you to maintain a set speed. However, on rain-slick surfaces, this system can actually cause you to lose control.
That's because if you hydroplane while using it, the wheels will then go faster. Plus, in order to prevent a loss of traction, a driver may need to lift off the accelerator to reduce the vehicle's speed. This unfortunately can't be accomplished when cruise control is on. Therefore, you'll want to turn it off to stay on top of any critical situations that may occur.
4. Slow Down & Give Yourself Lots of Room.
When driving in the rain, you should allow 1-2 extra seconds of following time. This gives both you and the cars behind you more time to react if need be.
You'll also want to slow down and drive more cautiously. Try to avoid hard braking or turning sharply, so that you don't hydroplane, or slide uncontrollably.
If you feel the car start to skid, you don't want to panic and risk getting into an accident. Instead, continue to look and steer in the direction you want the vehicle to go. Then, don't slam on the brakes, but rather gently pump them to maintain control.
Get More Rainy Driving Tips
Overall, you'll want to remain patient when driving in the rain. You and the other vehicles will need to drive slower, so give yourself extra time to get to your destination in Maple Shade, Moorestown, or Cherry Hill.
If you want more tips for successfully driving in the rain, then don't wait. Contact the experts at Elite Acura today!