Signs You Need Your Brakes Replaced
Many drivers around the Maple Shade, Moorestown, and Cherry Hill areas ask the Elite Acura service center team about signs you need your brakes replaced. While we recommend having your brakes checked with every 7,500-mile oil change, your car will also provide you with signals when your brakes are due for a replacement.
Learn more about your car's brakes here and then contact us to make your service center appointment.
Signs You're Due for a Brake Replacement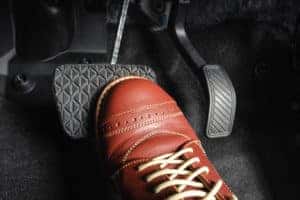 Like we mentioned above, having your brakes checked with every oil change is the best way to be proactive about keeping your car road-ready. However, you can also watch out for these common signs and symptoms:
Your brakes squeak, even when not pressing the brake pedal
You hear a constant clicking noise
It takes longer than normal to stop or slow your vehicle
You're pulling to one side while braking
Keep in mind that these signs can be indicative of a serious issue that may need prompt professional attention. Try to refrain from driving and make an appointment with your local dealership's service center as soon as possible.
How Often Should You Replace Your Brakes?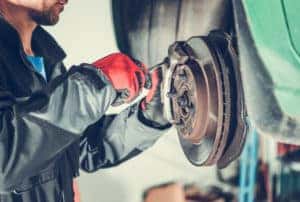 It's generally recommended that you replace your brakes every 50,000 miles, but that's only a guideline. Check your vehicle's owner's manual for your specific needs. There are several factors that can shorten and lengthen your brakes' lifespan, as well, including:
Driving Technique: One of the quickest ways to wear out your brakes is to overuse them. Follow posted speed limits and leave a safe following distance between you and the car in front of you to avoid frequent emergency braking. Instead, use smooth, gradual braking.
Towing Frequency: Towing a trailer adds a lot of extra weight, so it requires extra braking energy to bring your car to a stop. Try to limit towing frequency if possible. You can also use engine braking, if equipped, when descending steep hills to decrease the amount of time you spend stepping on the brakes.
Driving Location: City driving often includes a lot of stop-and-go traffic. This can put additional strain on your brakes. Try to travel by highway as much as possible when driving long distances to decrease braking frequency.
Brake Construction and Brake Pad Material: Not all brake pads and rotors are the same. We recommend opting for high-quality equipment that has a tendency to last longer. For example, harder brake pad compounds and carbon-ceramic rotors may require fewer replacements than standard metal rotors or soft brake pads.
Brake Replacement near Me
If you notice any of the signs you need your brakes replaced or simply want to have them checked out, we recommend visiting a factory-certified service center in the Maple Shade, Moorestown, and Cherry Hill areas.
At Elite Acura, for example, we have a team of factory-trained technicians, a large stock of genuine original equipment manufacturer (OEM) parts, and a state-of-the-art service center facility where you can come for all your brake repair needs.
Ready to make your appointment? Schedule one today!