Leasing vs Buying

When it's time to plan your automotive future, you've got two finance options to consider: buying or leasing. Both of these options have their advantages, so the team at Elite Acura is here to list the pros and cons of each.
This guide to leasing vs. buying will give you the rundown on both options, so you can determine which is the ideal choice for your Maple Shade, Moorestown, and Cherry Hill, NJ, lifestyle.
---

Buying a Car
Many drivers love owning their car. In general, the biggest benefit is that it's yours, so you can do whatever you want with it. Whether you want to give it a paint job, add some accessories, take it across the country, or even sell it, you're free to do so whenever the need strikes.
Drivers like to take advantage of this in a few ways. You might want to upgrade your ride, adding modifications like a supercharger to the engine or a towing hitch to the rear. It also means that if you get a scratch in the paint or a mark on the upholstery, it's not a big deal.
Owning your car will also give you the ability to build equity in the model. This becomes important when you reach the point where you decide to part ways with your car, whether you want to sell or trade it.
How to Buy a Car
Buying a car is generally very simple. You'll start by sitting down to talk with a member of the finance department to discuss your payment options.
When you purchase a car, you'll need a down payment, roughly 10 to 20% of the vehicle's overall value. The higher the down payment, the lower the costs of your future monthly payments.
If you already own a vehicle, it's ideal to trade in your current model and use its value toward your down payment. This process will eventually come full circle, as you'll always have the option to trade your car in when you make another purchase.
When you're curious about your vehicle's current value, you can easily take advantage of the various features available on our website. We can help you find its value with ease. In fact, we can give you an offer on your trade-in when you use our simple online application.
---

Leasing a Car
If you're not sure if you want to buy, you can always lease a car. Leasing is great because it gives you a set of wheels to help you get around in the short term.
The monthly payments are generally lower than if you would have purchased the vehicle; however, you're only paying off the vehicle's depreciation. You'll get the vehicle for a set of years and miles. At the end of the lease term, you simply either turn the vehicle in or purchase it for the remainder of its value.
Leasing a vehicle is a great option for drivers who only want to drive that vehicle for a few years. For one thing, always seeing a recent model year vehicle gleaming from your driveway is sure to feel good. Additionally, since leases are only for a few years, you'll get to stay on top of the latest advancements in vehicle technology.
How to Lease
The process to explore leasing is similar to that of buying. It all starts with a trip over to the finance center. There, a team member will take your information into account as they craft a lease for you.
A lease is made based on a few key elements:
The terms
Mileage limits
Value of the vehicle
You're given a certain amount of mileage per year as a part of the lease contract. This is extended across the lease term, which is how long you lease the vehicle for. Many leases tend to last around two to three years.
At the end of your lease, you'll typically have a few options. You can return the vehicle and walk away, return the vehicle and start a new lease, or purchase the vehicle. Each option will have slightly different steps, but as a rule, you'll want to keep your vehicle in good condition, no matter which you plan to do.
---
---
Wondering Which You Should Do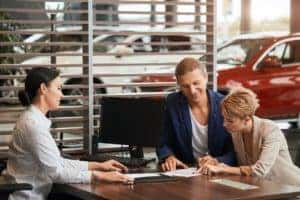 Deciding between buying and leasing is essential as you progress through your car-shopping journey. Both options have a lot of benefits that might be better suited to you, depending on your situation and lifestyle.
If you're wondering which you should choose to do, consider talking to the experts at our dealership. Our finance team has had a lot of experience working with car shoppers just like you, so they know the importance of your choice. As you talk with them about your needs and lifestyle, they can typically point you toward potential plans that may work.
For instance, someone planning to move away in a few years may be happy with a leased vehicle that will keep them on the road for the next two or three years. Alternatively, a driver with a growing family might enjoy the consistency of having one vehicle for many years.
---
Tools to Help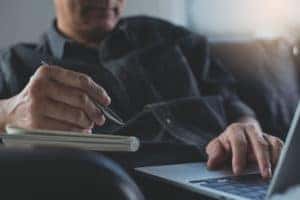 As you weigh your options, it can help to determine your budget ahead of time. By using tools like our payment calculator, you can get an idea of what your future financing plan might look like.
You'll want to determine the monthly costs of buying vs. leasing a car before making your decision. It might also be wise to factor in the cost of maintenance and service, so you can get a ballpark figure on how much you're going to spend on your next set of wheels.
Choosing the Right Financing Option for You
Making the choice of leasing vs. buying your vehicle is important, so let us at Elite Acura help you figure out which option suits you the best. We're always happy to help drivers in Maple Shade, Moorestown, and Cherry Hill, New Jersey, with their decision towards their next car.
Contact us today to get started on your car-shopping process!
---
---