2018 Acura TLX vs Honda Accord

The roads of Maple Shade, Moorestown, and Cherry Hill are calling and our team at Elite Acura wants to help you find the perfect sedan to get you around town! If you're in the market, the Acura TLX and Honda Accord probably look like great options.
When they're set side-by-side, which one has the features you need in your next new ride? Our 2018 Acura TLX vs. 2018 Honda Accord car comparison will help you weigh the advantages of both vehicles and decide which has you more excited to get behind the wheel!
Luxurious Comforts
Although the 2018 TLX is a luxury car, both vehicles feel like one with their beautiful interiors and abundance of soft-touch materials. The 2018 Accord has attractive and comfortable cloth seats in its base trim, though the TLX's leatherette-trimmed seats may win more style points. In upper trims, both vehicles offer premium leather upholstery.
Although higher-level Accord trims look like the TLX when it comes to luxury, the base trims don't quite match up. A power-adjustable driver seat with lumbar support is standard in the base TLX, though it won't show up until the EX trim in the Accord. Heated front seats—great for winter driving—grace the bottom-trim TLX, but not the base Accord.
A Powerful Performance
The Acura TLX and Honda Accord both offer a couple different engine options. In the TLX, you can choose between a 206-horsepower 2.4L I-4 or a more vigorous 290-horsepower 3.5L V6. The Accord doesn't have a V6 option, but both of its I-4 engines (1.5 and 2.0L) are peppy enough, delivering 192 horsepower and 252 horsepower, respectively.
The TLX has the upper hand in terms of acceleration, which comes in handy when you need a quick boost to get you past slower drivers or up to highway speeds. Both cars have standard front-wheel drive for top-notch traction in slippery conditions, but only the TLX has available all-wheel drive to handle winter's fury.
Media and Infotainment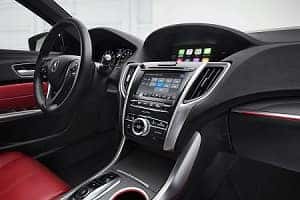 Both the 2018 TLX and 2018 Accord have well-equipped media systems, with 7-inch touchscreen displays and an audio system. The TLX starts at seven speakers and the Accord at four, but you can get up to ten in each. The TLX also has a second 8-inch display screen, which helps separate touchscreen controls from visual displays.
The popular Apple CarPlay™ and Android Auto™ features come standard on the TLX. You can connect your smartphone and watch as a modified version of your phone's screen appears on the media system's screen. You can find these features on the Accord as well, but you'll have to upgrade to do so.
Considering the Acura TLX as your next car? Check out this Buyer's Guide to the 2018 Acura TLX to get a more in-depth look!
2018 Acura TLX vs 2018 Honda Accord: What's the Verdict?
There's no doubt that the luxury Acura TLX and the Honda Accord are two standout sedans. Each will get you where you need to go safely and reliably. If you're looking for more powerful performance and a few luxurious extras, however, the TLX may be just the car for you.
At Elite Acura, we know that reading car comparisons like our 2018 Acura TLX vs. 2018 Honda Accord piece is just the first step. If you live near Maple Shade, Moorestown, or Cherry Hill, schedule a test drive of the 2018 Acura TLX and experience that power and style yourself!