Acura TLX vs Audi A4
Once you leave the office this Friday, start your weekend off right with a spine-tingling ride along the highways on Maple Shade, Moorestown, and Cherry Hill. With either the 2018 Acura TLX or the 2018 Audi A4 as your next speed-racing companion, you'll be armed with plenty of power, technology, and luxury.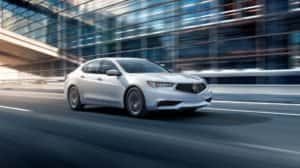 However, when it comes to dominating the road like no other, only one of these sporty sedans will go above and beyond your wildest expectations.
To see which of these automobiles steals the spotlight, let's dive into this 2018 Acura TLX vs. 2018 Audi A4 vehicle comparison created by the experts at Elite Acura. Once you get a sense of each feature inside these vehicles, you'll know exactly which option will deliver on your every desire.
Power and Agility
Without a boost of potent strength during your highway adventures, things can quickly become a little boring. So, instead of putting up with a lagging engine, opt for the force of the 2018 Acura TLX. This agile sedan comes equipped with a standard 2.4L engine that turns heads with 206 horsepower.
To harness all that energy, the Acura TLX also offers up a standard 8-speed dual-clutch transmission, which effortlessly provides you with a punch of strength when you need it most.
Alternatively, the 2018 Audi A4 features a 2.0L engine that produces 190 horsepower and includes a 7-speed transmission. Without the stamina that's found under the hood of its Acura competitor, the Audi A4 may prove to be less exciting when you push the pedal to the metal.
2018 Acura TLX vs 2018 Audi A4: Technology
Nothing's more important than staying relaxed and entertained behind the wheel. That's why the 2018 Acura TLX comes furnished with a 7-inch On Demand Multi-Use Display™ with access to an array of standard gadgets, such as Apple CarPlay™, Android Auto™, SiriusXM®, Pandora®, and much more.
While the 2018 Audi A4 also presents a 7-inch touchscreen, this sedan doesn't offer amenities like Pandora® and SiriusXM® as standard features.
That means, you'll likely have to opt for upper trim levels to get the same technologies that're automatically included in the Acura TLX. Plus, viewing your favorite applications at the same time may be slightly more difficult with only one display.
Comfort and Convenience
Your comfort during your commutes to work shouldn't be an afterthought. That's why the 2018 Acura TLX helps soothe your body with its standard 10-way power seat with lumbar support. That way, you can customize the position of your seat to fit your unique proportions and preferences.
On the other hand, the 2018 Audi A4 is outfitted with a standard 8-way, power-adjustable driver's seat. Without the more personalized option contained in the Acura TLX, though, you may find that your ride isn't quite as comfortable while operating this sedan.
2018 Acura TLX vs 2018 Audi A4 Vehicle Comparison: Verdict
Although both automobiles present lots of unique features, only the 2018 Acura TLX will raise the bar further than you ever thought possible. With its top-notch performance, advanced technology, and soothing comfort, this vehicle will have you soaring down the highway in style.
To snag this high-tech sedan for your next journey through Maple Shade, Moorestown, and Cherry Hill, stop by the showroom at Elite Acura, or schedule your test drive today!