Acura Maintenance Schedule

---
Routine maintenance is the easiest way to ensure your vehicle is always up for the ride ahead. So, if you want to keep
your Acura model
cruising along those Maple Shade, Moorestown, or Cherry Hill, New Jersey, roads for many years and miles, then you'll need to consult the Acura maintenance schedule.
Use this convenient guide crafted by the Elite Acura team to make sure that you're on the right track as you care for your Acura.
---
---
​
Caring for Your Acura Model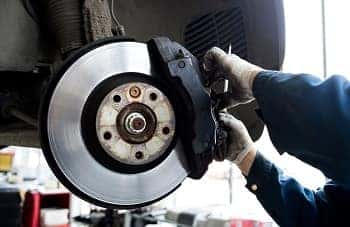 Staying on top of maintenance can help reduce how often you need to get Acura repairs since you'll make sure every part is running in top condition. Generally, you'll want to complete certain periodic inspections to make sure there are no surprise issues.
Once a month, try to check the following:
Brake fluid level
Condition of the tires
Brightness of the exterior lights
You should also make sure to test your wiper blades every six months. If they leave streaks across your windshield, it's time to replace them!
While you'll generally want to change your engine oil once a year, Acura models come equipped with a handy feature that can monitor the oil and other bigger maintenance items. Just turn to the Acura Maintenance Minder™ system.
---
Following the Maintenance Minder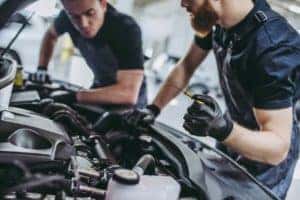 The Acura Maintenance Minder™ streamlines the maintenance process by monitoring the oil life for you. When the engine oil is at less than 15%, you'll be alerted that it's time to get an oil change.
While the oil change is the Main Item, you'll notice that there are usually a few numbers listed at the bottom of the Maintenance Minder™ message, as well. These are the Sub Items, other maintenance items that will also need to be handled when you bring your vehicle to a service center.
There will be an A or B at the beginning of the code at the bottom of your Maintenance Minder™ message, letting you know that it's time for an oil change. Following that letter will be any combination of numbers ranging from one to seven.
For example, if you see a number one, it means you also need to get the tires rotated. The number three means it's time to replace the transmission fluid, and five means you'll need to replace the engine coolant.
---
Completing Repairs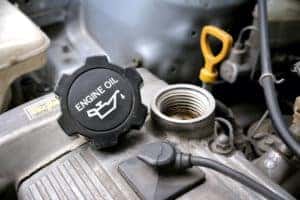 Following the messages given to you in the Maintenance Minder™, you can schedule an Acura maintenance appointment or DIY your repairs with ease.
If you choose to work on your vehicle yourself, there are a few simple tips to follow. In general, you'll want to consult your model's owner's manual, since this will give specific guidance on what your vehicle needs.
For instance, you can use Acura Genuine Motor Oil on your vehicle, but it's important to make sure that you get oil that is the right grade and viscosity for your vehicle.


---
Schedule Your Acura Maintenance Appointment
If you have more questions about your Acura maintenance needs, simply contact Elite Acura. We'll be able to answer any of your lingering questions to ensure you feel confident every time you drive around Maple Shade, Moorestown, or Cherry Hill, NJ.
Want to schedule a service appointment with our expert technicians? Use our online scheduler and reserve your appointment. We look forward to helping you!
---