2017 Acura NSX
You don't settle for anything less than the best, and why should you? When it comes to your lean, mean driving machine, nothing should disrupt your breathtaking ride along the roads of Maple Shade, Moorestown, and Cherry Hill.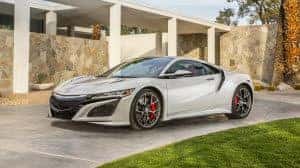 When you choose to lead the pack at the helm of the ultra-powerful 2017 Acura NSX, you may find it hard to settle for just one lap around the track.
Let's dive into all the details of this soaring speedster by checking out this 2017 Acura NSX review created by the experts at Elite Acura. Before long, you'll be ready for another adventure with this raceway companion at your side.
2017 Acura NSX: Performance and Handling
When you're behind the wheel of a beast as forceful as the 2017 Acura NSX, you've got to be supplied with lots of ways to adapt your drive to suit your mood. That's why this expert racer features the Integrated Dynamics System, which offers up a selection of different driving modes.
Included in this full-throttle control gadget are four different choices like Quiet, Sport, Sport+, and Track. With this tool, nothing will stand between you and dominating every inch of your path.
As if that weren't enough, the Acura NSX keeps things environmentally friendly, too. Be propelled along the road with a 3.5L turbocharged motor that's teamed up with three electric engines.
When these turbines sing in unison, you'll tackle the track with a whopping 573 horsepower and 476 lb-ft of torque. With that kind of influence, that little red line on your speedometer will climb to 60 MPH in a matter of seconds—2.7 seconds, to be exact.
To equip you with the sturdiest footing for those spine-tingling advancements along the curves of the highway, this supercar packs a punch with Sport Hybrid Super Handling All-Wheel Drive™. By pushing torque independently to each front wheel, this vehicle will soar past obstacles like a true racing expert.
Acura NSX: Technology and Innovation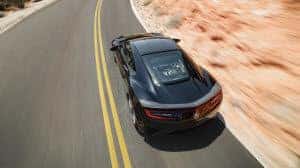 When you're seated on the throne of a vehicle this commanding, it's essential to ensure that you'll never be distracted from what's ahead. To keep you comforted and supported, the 2017 Acura NSX arms the cabin with Alcantara® seats that cushion your body and help to reduce excess movement.
Meanwhile, you can sync the twists and turns of this supercar with the beat of your favorite tunes with AcuraLink® The Next Generation system. From the optional 8-inch touchscreen, you'll easily select any entertainment amenity you prefer with choices like Pandora®, HD Radio™, Android Auto™, Apple CarPlay™, and much more.
2017 Acura NSX: Designed to Dominate
Any leader understands the importance of keeping up appearances. That's why the 2017 Acura NSX makes sure that heads turn everywhere with its jaw-dropping architecture. Modeled like racing royalty, this supercar offers up a sculpted body that cuts through the air like no other.
On top of that, this vehicle comes completed with Total Airflow Management, which includes 10 design intakes that increase its aerodynamics. That way, this motoring mogul will cruise down your route, all while remaining efficient.
Test Drive Your 2017 Acura NSX Today!
At Elite Acura, we believe that no obstacle should get in your way while you're taking a thrilling jaunt along the roads of Maple Shade, Moorestown, and Cherry Hill. With the 2017 Acura NSX, you'll quickly realize that you're operating a potent phenomenon that'll sense your every demand.
Don't hesitate to experience every inch of this vehicle for yourself. Stop by our showroom, or schedule your test drive today!